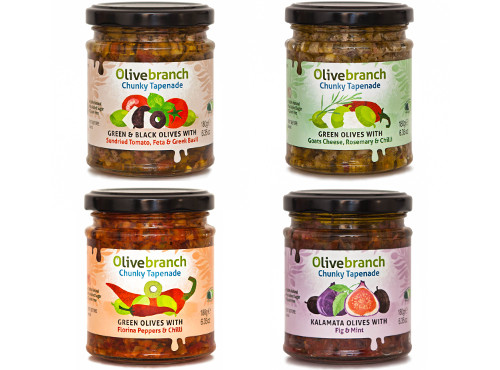 Impress your guests with restaurant quality appetisers or simply use them in your cooking for your daily olive fix.
Our Chunky Olive Tapenade are so versatile, you can use them to create effortless canapés or as a healthy and tasty ingredient for a quick & simple dinner solution.
Pioneers of a new chunky recipe with memorable flavours
Made with high quality fresh ingredients – with NO ADDED SUGAR
100% NATURAL – no artificial preservatives, flavourings or colourings
Produced in a BRC accredited site and in a GLUTEN FREE environment
HEALTHY RANGE – high in fibre, low in saturated fat
Transformation of a traditional recipe into a brand new Chunky Tapenade with an exciting range of flavours inspired by the fresh ingredients – sourced from independent, artisan farmers around Greece.
Our Tapenade range is available in four flavours:
A Little About Us
We are a Greek food company producing a range of products using classic Greek ingredients with our unique touch. We make our own olive oil on our family farm in SE Crete and we also make Chunky Olive Tapenade, Greek Mezze dips and a big range of marinated olives & antipasti. We supply fine food shops and restaurants around the UK.