Dakos (Organic Mini Rye Rusks)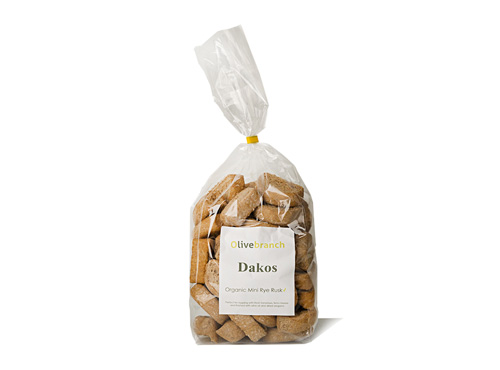 Dakos are the new found obsession of legendary chef Yotam Ottolenghi following his visit to Crete – We are proud to be supplying him with ours!
Cretan – Greek Salad with Dakos
Made with Rye & Wholemeal Wheat flour, these oven- dried crisp breads are sweeter, nuttier and crunchier than their wheat-only counterparts. Top with ripe chopped tomatoes, olive oil, crumbled feta, Kalamata olives & oregano for a healthy and seriously addictive salad.
Wholemeal rye flour, wheat flour, water, salt, yeast
Energy: 388kj/; Fat: 2.78g; Carbohydrates: 83.69g; Proteins: 7.08g
Gluten Free? NO
Natural? YES
GM free? YES
Hydrog. Fat free? YES
Free from… Soya? YES
Nuts? YES
Milk? YES
Egg? YES
Crustaceans & Fish? YES
Suitable for… Coeliacs? YES
Vegetarians? YES
Vegans? YES
Diabetics? YES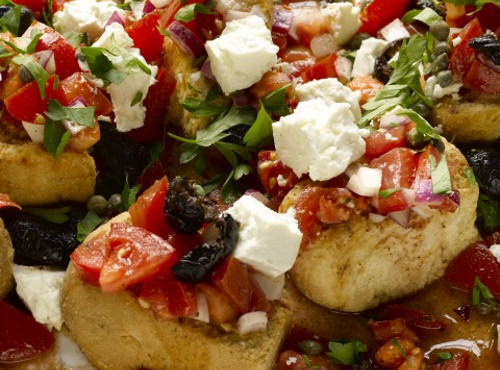 A Little About Us
We are a Greek food company producing a range of products using classic Greek ingredients with our unique touch. We make our own olive oil on our family farm in SE Crete and we also make Chunky Olive Tapenade, Greek Mezze dips and a big range of marinated olives & antipasti. We supply fine food shops and restaurants around the UK.