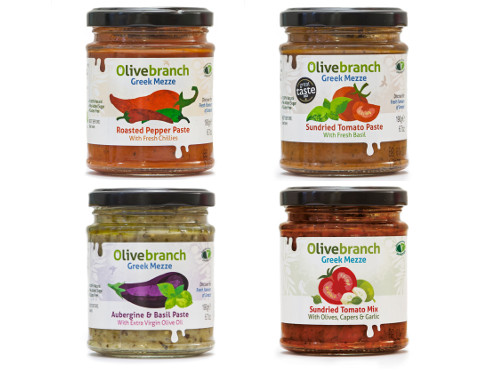 Taking you on a journey around Greece, we have created our Greek Mezze range using very special Greek ingredients.
All our ingredients have been nurtured with care, producing rich and flavoursome recipes with a very simple ingredients list.
Greek Mezze Perfect for dips, stirring into pasta or for bruschetta toppings
Sundried Tomatoes drenched in sunshine on the Island of Crete, Sweet Red Peppers from the mountainous Florina region in Northern Greece. Flavoursome Roasted Aubergine grown nearby Kalamata.
Popular to use as dips, spreads and even as cooking ingredients, you can use these for everything from simple snacks to stir-in sauces.
Our Greek Mezze range is available in four flavours:
A Little About Us
We are a Greek food company producing a range of products using classic Greek ingredients with our unique touch. We make our own olive oil on our family farm in SE Crete and we also make Chunky Olive Tapenade, Greek Mezze dips and a big range of marinated olives & antipasti. We supply fine food shops and restaurants around the UK.