Sweet Olive, Fig & Almond Relish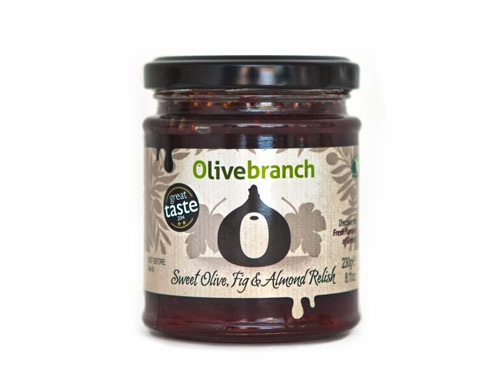 A Kalamata olive reduction with fresh fig and almond – this Unique and Multi Award Winning Relish is the perfect partner for Cheese, Yogurt & even Ice Cream! It also makes a rather memorable Tart Tatin.
A perfect cheeseboard accompaniment
Inspired by a recipe from 2012 Masterchef finalist Andrew Kojima, I realised that Olives, Figs & Almonds grew not only in abundance but also to an extremely high quality in my native country of Greece. Soon our Sweet Olive, Fig & Almond Relish, a modern twist on the Fresh Flavours of Greece was born.
Serve sandwiches at your deli?
Try Goat's cheese and rocket with our Sweet Olive Relish.
Kalamata olives ( 38.63%), sugar, glucose, figs (4.21%), Almonds (2.81%), grape must, vinegar
Energy: 1375kJ / 126kcal; Protein: 1.4g; Carbohydrates: 64.1g; Fat: 7.9g (of which saturated: 0.9g); Fibres: 3.3g; sodium: 0.09g
Gluten Free? YES
Natural? YES
GM free? YES
Hydrog. Fat free? YES
Free from… Soya? YES
Nuts? NO
Milk? YES
Egg? YES
Crustaceans & Fish? YES
Suitable for… Coeliacs? YES
Vegetarians? YES
Vegans? YES
Diabetics? NO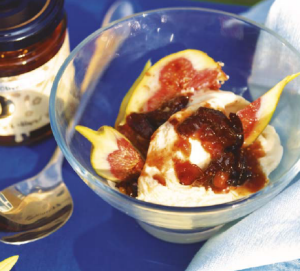 A Little About Us
We are a Greek food company producing a range of products using classic Greek ingredients with our unique touch. We make our own olive oil on our family farm in SE Crete and we also make Chunky Olive Tapenade, Greek Mezze dips and a big range of marinated olives & antipasti. We supply fine food shops and restaurants around the UK.