Our new harvest Extra Virgin Olive Oil has landed and as we inform you of this, we are excited to introduce the new branding for our oil. You may be aware that regulation for extra virgin olive oil is tightening as the market is flooded with blended oils made with olives from several different...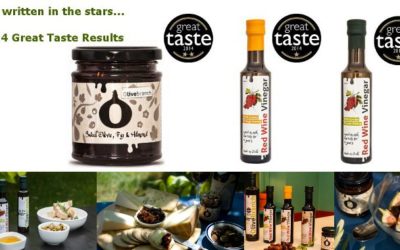 Monday 11th August was like being back at school. It was the day the Great Taste Awards were released and we were full of anticipation and as nervous as a teenager waiting for our A-level results! At approximately 5.30pm we received a message in our inbox confirming...
read more
A Little About Us
We are a Greek food company producing a range of products using classic Greek ingredients with our unique touch. We make our own olive oil on our family farm in SE Crete and we also make Chunky Olive Tapenade, Greek Mezze dips and a big range of marinated olives & antipasti. We supply fine food shops and restaurants around the UK.